Created Jan 05, 2012 10:30PM PST • Edited Jun 27, 2013 10:32AM PST
Quality

Great 4.0

Stephen Spielberg's War Horse is an instant classic in several categories:

War Movies: WWI's trench warfare, poison gas and mismatch between pre-industrial and industrial warfare are vividly shown, albeit without the explicit savagery of Saving Private Ryan, Spielberg's

WWII

classic.
Horse Movies: The beautifully rendered steeds are inspiring and heart-rending in equal measure.
Cinematic Fables: Kids from 11 to 111 should see War Horse. Savagery sufficiently toned down, it still serves as a bracing fable about life's vicissitudes and the power of love.

Sure, it's elegiacal in the extreme, aka PG-13 corny, as BrianSez correctly points out. However, few kid's movies tackle poverty, alcoholism and war so admirably. Some corn alongside those meaty subjects doesn't spoil the meal.

Finally, neither War Horse or The Adventures of Tintin are among Spielberg's greatest movies, though both are great in my estimation. However, the fact that he released them at the same time is a stunning accomplishment. Most directors would kill to have either in their oeuvre.

Great 4.0

Joey the horse was played by ten different horses, all magnificent. As for the humans:

Emily Watson brings real depth of character to the troubled farm wife.
Young Jeremy Irvine is a bit too earnest as the farm boy who falls in love with a horse, even if that's what the character requires.
Niels Arestrup is wonderfully earthy as an old French farmer.
Celine Buckens is lovely and affecting as his granddaughter.
Benedict Cumberbatch is appropriately stuffy as a British officer. He's also currently starring in Tinker Tailor Soldier Spy.
Eddie Marsan, one of the better character actors working today, is a natural as a tough sergeant.

Male Stars

Great 4.0

Joey was Perfect, the humans Very Good.

Female Stars

Really Great 4.5

Female Costars

Great 4.0

Male Costars

Great 4.0

Great 4.0

Spielberg seems to have worked more from the book than the puppet-dependent play, though many scenes were familiar from the stage production. Kid's fables should all be this well rendered.

Direction

Perfect 5.0

Spielberg's framing and use of naturally moving scenery works especially well in a kid's movie, for instance when he uses the rotation of a wind-mill to frame and then hide a firing-squad execution.

Play

Very Good 3.5

The story is a well deserved classic, occasionally funny, surprising and reassuring, even if overly earnest for adult sensibilities.

Music

Very Good 3.5

Visuals

Perfect 5.0

Every frame is a visually sumptuous canvas. Spielberg and his trusty cameraman Janusz Kaminski make each scene as highly produced as in an old sound-stage film and yet the entire film feels shot on location. Wow.

Content

Risqué 1.7

Almost everyone dies, especially those who take kindly to the horses. However, almost no blood is shown. Spielberg pulls that punch.

Sex

Innocent 1.0

Violence

Fierce 2.5

Rudeness

Salty 1.7

Glib 1.5

Generals always fight the last war, as the saying goes. In Britain's case this meant charging mounted cavalry against gun-wielding Germans. Worse, the cavalry had swords drawn and guns holstered. That's right, the Brits brought swords to a gun fight. When the Kaiser's men opened up with machine guns, the slaughter became monumental.

Such slaughter contributed to WWI's nickname. Fought from trenches, The War To End All Wars gave us trench coats, worn by men who went over the top into no man's land. War may be hell, but is unequaled for affecting culture and language.

As brutally cavalier as the British are shown to be, clear-eyed viewers will identify the Germans as the villains, Germany having started the war and prosecuted it with a degree of savagery since outlawed by the Geneva Convention. The use of poison gas is briefly but effectively shown. Indeed only two major combatants used poison gas in the 20th Century: The Germans in WWI and Saddam Hussein's Iraq against Iran and his own Kurdish citizens. Now there's a time tripping Axis of Evil.

Circumstantial

Glib 2.0

Biological

Glib 1.4

Physical

Glib 1.2
Dec 25, 2011 6:58PM

Wick

Regarding BrianSez's Review
Great review Bri. Love the "yellow vegetable" allusion.

I saw War Horse on stage in London, where they used puppets for the horses and other animals, which worked tremendously well. Will be interesting to see Spielberg's live action take.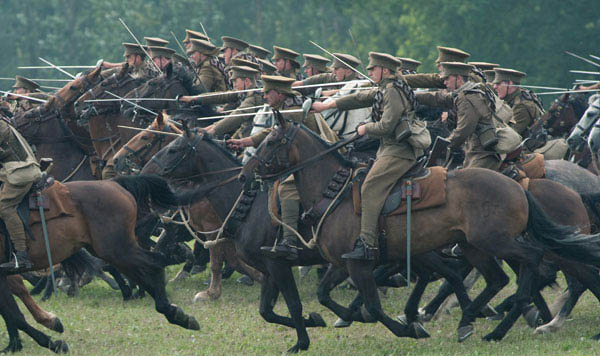 Bringing Swords to a Gun Fight
Source: http://www.tribute.ca/tribu...
| | | |
| --- | --- | --- |
| | Great | The 2008 Mumbai attacks were of 9/11 savagery and compreh... |
| | Great | Great American Movies based on Great American Novels reve... |
| | Very Good | Bradley Cooper & Lady Gaga got themselves the best *Star ... |
| | OK | Oaktown gets its closeup in Oakland-native Daveed Diggs's... |