Created May 04, 2008 05:57PM PST • Edited Apr 21, 2018 10:29AM PST
Quality

Perfect 5.0

Iron Man – a super knight for our ironic age – succeeds wildly because we relate to the oh-so-human hero while laughing at his non-stop comic patter. Marvel mastermind Stan Lee, stylish director Jon Favreau and witty star Robert Downey Jr. deserve hosannas for delivering such a smart and entertaining comik movie. Bring on the sequels!

Great 4.0

Downey hasn't been this funny since his breakout performance in Back to School two decades ago. The spontaneity of his lines infuses the entire production with a witty energy, while his off-screen foibles suggest he's uttered many in real life, as when he says to his comely assistant "Let's be honest, this isn't the worst thing you've caught me doing."

The rest of the cast have trouble measuring up. Jeff Bridges and Gwyneth Paltrow come close, the former employing his avuncular charm to great effect as a backstabbing cretin, the latter playing to type as the non-bimbo blond. Speaking of hair or lack thereof, Bridges' chrome dome deftly turns him into a corporate Lex Luther.

Terrence Howard is less convincing as Air Force hero "Rhodey." Terrific in any number of roles – notably Hustle & Flow and Crash – he doesn't come across as a high tech military man, though he does sell his passion for the gig in a brief scene instructing younger officers. Evidently there is a gold robot-suit for him to wear in future Iron Man movies, so he'll apparently have a chance to grow into the role.

Post Script: Mercurial Marvel has wisely cast aside Terrence Howard as Rhodey for Iron Man 2, going instead with Don Cheadle. He could hardly do worse, so happy to see him suit up.

Male Stars

Perfect 5.0

Female Stars

Great 4.0

Gwyneth Paltrow was great, not perfect.

Female Costars

Great 4.0

Male Costars

Very Good 3.5

Terrence Howard was good, not great. Though listed as a star in the official credits, I'm judging his role to be more a costar.

Perfect 5.0

Comik movies don't get any better than this: funny, flashy, cataclysmic, clever. Jon Favreau – aided no doubt by Marvel major domo Stan Lee – has conceived a perfectly ironic entertainment for our time, staying in touch with his inner adolescent while bringing in plenty of adult elements to entertain boys and some girls of most ages.

Direction

Perfect 5.0

Jon Favreau is Ironic Man, on the one hand taking seriously this adolescent story, while on the other lampooning the characters and our media soaked, computer-aided age. From a purely directorial POV, he's clearly now a master of major productions. I counted 75 "Utility Stunt" credits, while the FX credits run to eight pages on IMDB. This army of specialized talents only achieves their magic under the ministrations of a big time director.

Plus he plays a nifty chauffeur, and also orchestrates a faux Hef cameo for the great Stan Lee.

Play

Perfect 5.0

I love a script that ends with the perfect line, here being "I am Iron Man!" And boom, up come the credits.

Though not credited, Downey apparently had a major hand in creating the dialogue, by several accounts rewriting it on the spot each morning. The results are snappy, snarky and fresh.

Music

Perfect 5.0

Back in Black to start off the movie, then Black Sabbath's Iron Man when the full power of the character is brought to light. Perfect.

Visuals

Perfect 5.0

The shiny, glowering robo-suits, while occasionally over the top, worked splendidly. Other visual standouts were Tony Stark's modern Malibu mansion, the delayed reaction Jericho Missile demonstration, and Iron Man's aerobatics.

Content

Risqué 1.8

The only thing challenging the PG-13 rating is a brief scene of Downey rolling out of bed with Leslie Bibb's eager Vanity Fair reporter, setting himself up for a later – very funny – double entendre.

Sex

Titillating 1.6

Violence

Fierce 2.2

Other than Tony's heart injury, the violence follows the comik code: little to no blood.

Rudeness

Salty 1.7

Surreal 3.0

2X to 4X across the board: circumstantially, physically and biologically. Details below, though in brief PhysioReality was most stretched, with Circo and BioReality attractively restrained, as comik movies go.

Circumstantial

Surreal 2.3

From a work force POV, the coordinated labor and supply chain needed for the design, production and support of the Iron Man suits would rival NASA's, yet our man Stark builds his himself, complete with forging the indestructible alloy, itself a PhysioReality liberty. Only corporate rival Obi Stane has an organization, and even there the numbers don't add up. As Stane barks to one of his lackeys: "Recruit our best engineers." Indeed.

Biological

Surreal 2.3

Biologically, most everyone in the movie takes a licking and keeps on ticking, especially our man Stark, with his super pacemaker. Shot into a concrete ceiling as if out of a cannon: funny yes, causes even a bruise? No. Caught in a cataclysmic weapons-dump explosion: action packed yes, harmful to the hair and skin? Apparently not.

Physical

Fantasy 4.3

From a Conservation of Energy POV, the amount of physical energy the Arc Reactor generates compares favorably to an H-Bomb, here miniaturized and controlled like an iPod. This fantasy – enjoyable lunacy though it may be – brings to mind the current debate over energy sources and their relative densities. For instance, it has recently been observed that corn and other bio-fuels take mega-square miles to produce industrial amounts of energy, as do wind and solar farms. Physical chemistry's a bitch that way. Only bad old hydrocarbons and nuclear are attractively dense. In the case of the former, eons of compression have composted that old greenery into pitch black coal, oil & natural gas. The latter is just plain black magic.

Tony Stark, however, don't play that p-chem shit, a fantastic logic suspension that enables his little-engine-that-could to become a space efficient hummer of a ticker.
May 17, 2008 3:01AM

cinemaman

IRON MAN great movie cant wait till the sequal comes out in 2010 liked it very much. great reviews

May 16, 2008 3:26AM

Wick

The great Iron Man reviews keep on coming. Now SnowMan's review has me wondering what I missed at the end of the credits. I'm usually a guy who stays through the credits, but I must've bolted too soon this time.

May 5, 2008 2:39AM

Wick

Thanks AMC. I was lucky enough to see it at the Century 21, my favorite theater for big, big movies. Huge screen!

SpaceGhost just posted a great review also. I'm looking forward to seeing your's next.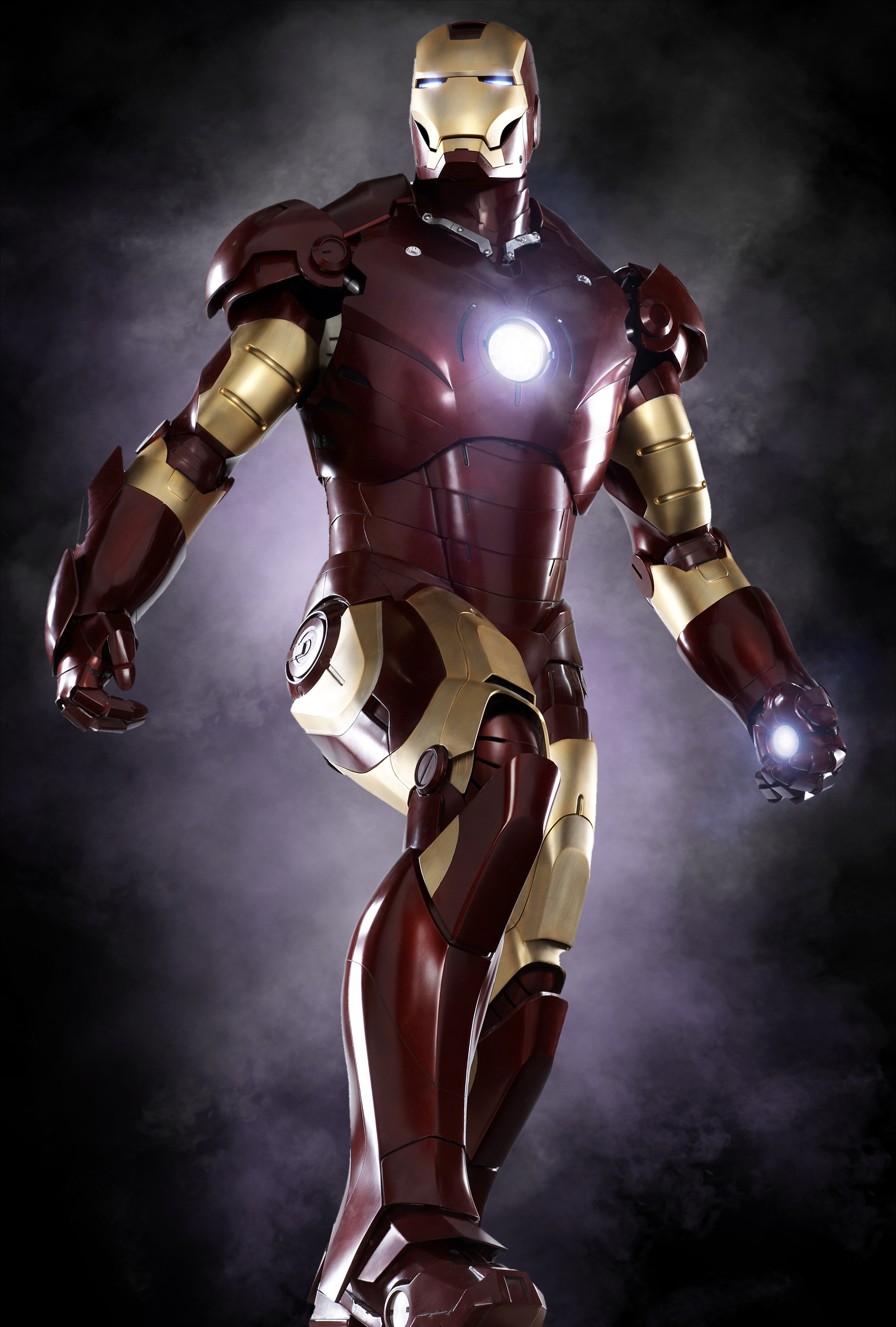 Behold, Iron Man
Source: https://vignette.wikia.noco...
| | | |
| --- | --- | --- |
| | Really Great | Formulaic sequels like *The Equalizer 3* don't get any re... |
| | Really Great | J. Robert Oppenheimer is an American hero, flawed like mo... |
| | OK | *Ant-Man and the Wasp: Quantumania* is a competent Marvel... |
| | Good | *Wakanda Forever* is maternal Marvel, and not just matern... |